Investment Philosophy at a Glance
Our goal is to provide customized investment solutions to work towards meeting the goals of our clients.
We endeavor to achieve cost effective, consistent, risk-adjusted returns for our clients during all economic climates and business cycles.
The intelligent use of both passive and active strategies helps to optimize the balance between market-based returns and risk-based returns.
We feel intelligent and prudent wealth management is responding to changes in the market and/or economy in intermediate and long terms trends by acting proactively to work toward minimizing downside risk management.
 We understand that each of our clients have a unique set of financial needs and objectives. In order to best serve the interests of our clients, we provide a diverse selection of investment portfolios that can be used individually, or combined strategically, to accomplish our clients' financial goals. Rather than being restricted by a singular investment strategy, we prefer to allow the client's specific situation to dictate the type of investment portfolio utilized. A diverse set of client goals necessitates a robust set of investment solutions. To that effect, our portfolio offerings are designed to provide a wide spectrum of approaches. This affords us the ability to provide both active and passively managed investment strategies.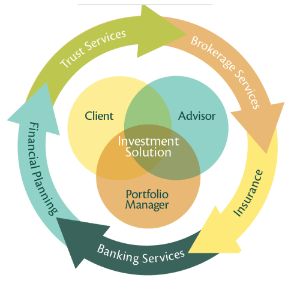 We take pride in acting as an independent and unbiased financial advisor to our clients. It is our practice to always take a team approach when it comes to disciplined and prudent investing. Our investment committee, composed of nine members, is tasked with the responsibility of closely monitoring our portfolios and making all investment decisions. As a group the committee relies upon decades of collective experience in the financial markets and financial service industry. Although we are forward looking in our approach to meeting our clients' financial needs, our investment committee still adheres to time tested investment principles that focus on comprehensive fundamental research and technical analysis. Keeping our clients' best interest in mind is always our first priority.
At Tompkins Financial Advisors, we endeavor to achieve cost effective, consistent, risk-adjusted returns for our clients during any and all economic climates and business cycles.
Note: No strategy assures success or protects against loss.